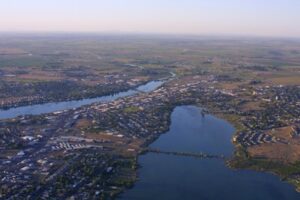 Moses Lake Washington is a sunny location sitting on the shores of the lake that inspired its name, on the east-central part of the state. It is a family friendly city, with many activities and destinations for those who visit and live. Nature lovers will enjoy water sports on Moses lake, and birdwatching at the Potholes Wildlife reservations. Golf enthusiasts can tee up at Moses Pointe Golf Resort. There is splendid hiking and camping opportunities as well.
If you love the small town appeal, then downtown Moses Lake will be very desirable with its shops, restaurants, and more. With a population of 20,000- we invite you to see what Moses Lake has to offer.
Sitting in the desirable neighborhood of Pelican Meadow, this must-see, 6,300 square foot home custom built in 2003 with five-bedrooms and six-bathrooms (three full baths), formal dining room, casual dining room, a living room and family room, arts and crafts studio, playroom, media/family room, 1,200 square foot storage room above garage, large laundry chute, and fully insulated 3 and 2-car attached garages on an acre of land. There is no other home in Moses Lake like this two-story home with a below-ground pool in the attached 2,500 square foot insulated pool house, and every bedroom has a bathroom! When you ask for the five-page list of features in this stunning home, you'll see there are multiple HVAC systems throughout!