By Max Wilker, Style Director for Better Homes & Gardens Brand Licensing
The luxury home owner is often the earlier adopter for the hottest design trends. With a healthy budget to build or renovate, their designers are incorporating bold color palettes, the most luxurious of materials and ever-higher degrees of personalization to create homes that are truly unique but livable showcases for the discerning owner. Luxury homes frequently start tomorrow's top trends for more mainstream houses (think stainless steel appliances and granite counter tops, once the signature look in only the most expensive kitchens, but are ubiquitous today). Here are a few of the exciting design directions that are setting the pace for the future: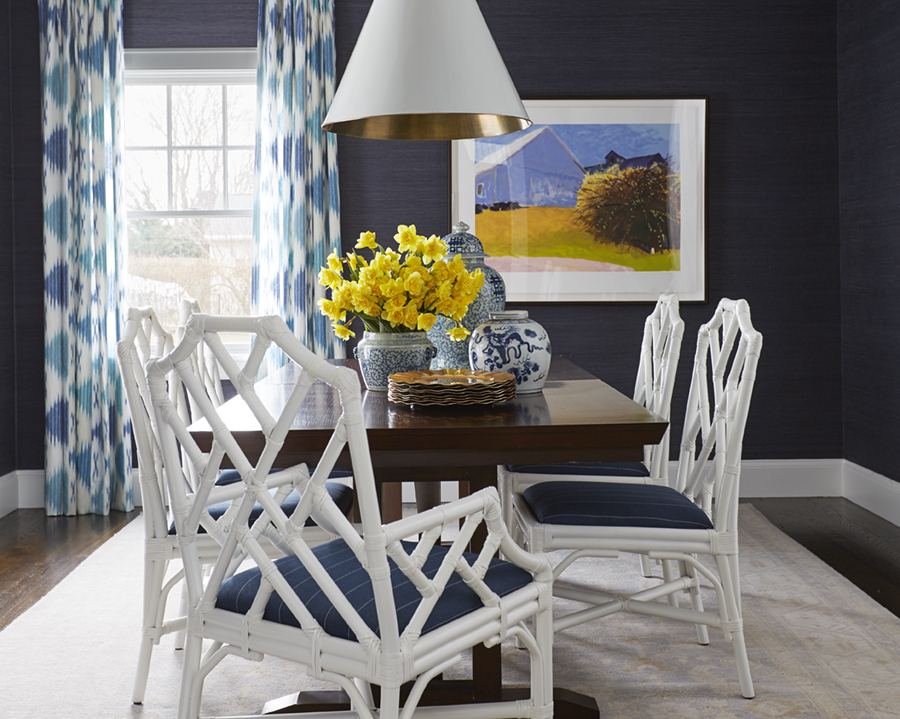 Color Trends
Deep navy is trending heavily right now. It's bold, yet beautiful and calming when in a matte finish. We see this trend in kitchen cabinetry, on focal walls and in rooms where all four walls and even the ceiling is painted the same dark navy color giving you a space enveloped in a midnight blue sky. This works as a perfect backdrop to lighter wood furniture and bold artwork on the walls. Luxe metallic such as gold and silver pair wonderfully with the navy.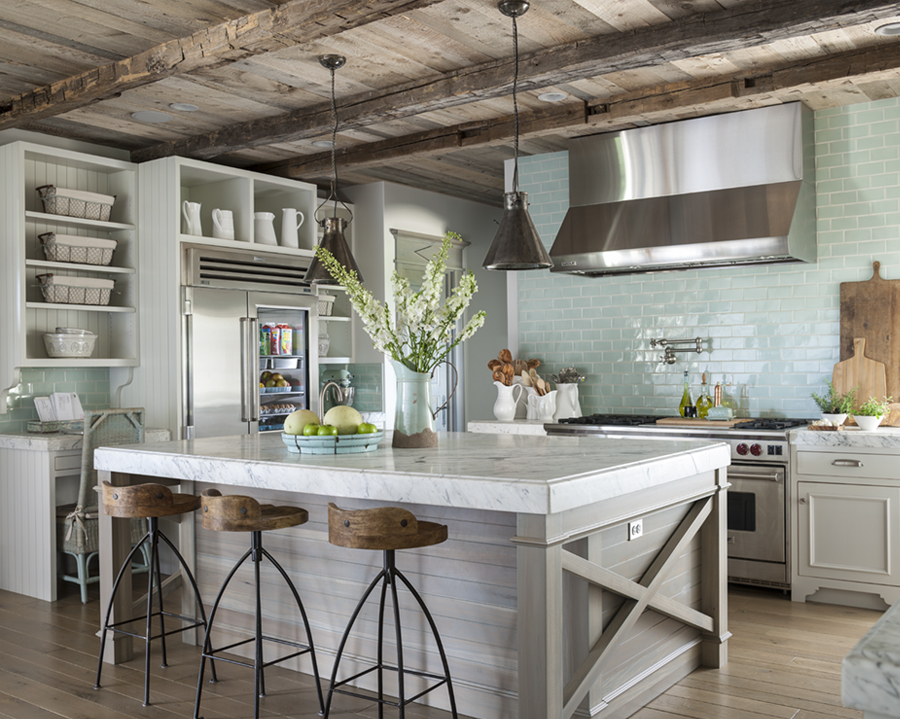 Modern Farmhouse Luxe Style
This trending style has hit at all levels of homes. The Modern Farmhouse Luxe style exists at the juncture between old (family antiques, reclaimed wood, handcrafted details) and new (industrial furnishings, contemporary furniture and art). It's a style that can be elegant and upscale, yet is comfortable and familiar. This style uses natural wood accents and pairs them in a setting with white and neutral colors, clean lines, and nubby, textured fabrics.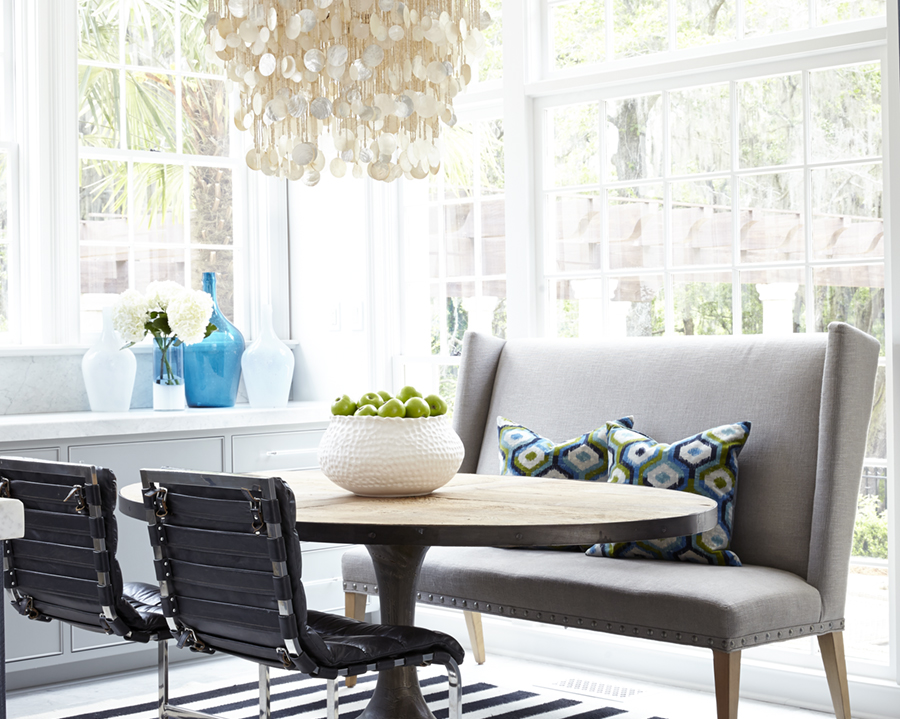 Statement Lighting
Statement fixtures and pendants continue to be the shining stars of luxury homes. Today, it's not just one grand fixture in the entryway. It is statement lighting in almost every room of the home especially: kitchens, dining rooms, master bedrooms and baths, and powder rooms. Lighting materials are almost endless in variety, including crystals, capiz shells, silver metal beads, and silk fabrics. Also look for lighting trends inspired by midcentury modern styling and created of mixed metals. Pay attention to scale–the fixture's drama is often in how it fills the space, meaning one oversized piece or a grouping of several pendants.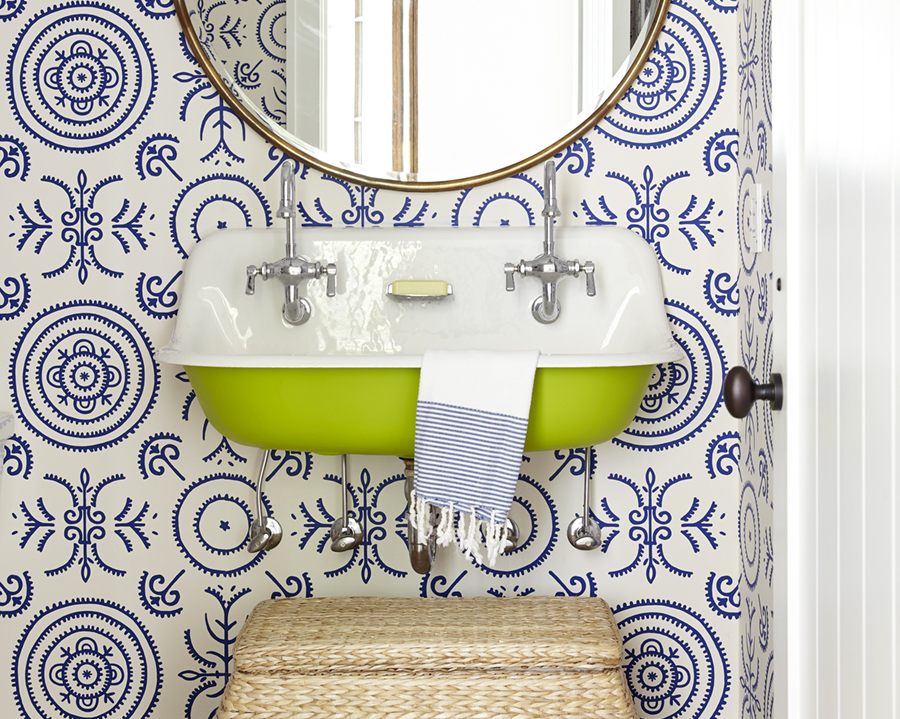 Wallpaper
Wallpaper has returned as a major fashion statement for the home and is increasing in popularity. From digital prints to textured, 3D wall coverings, this trend is the way to add a bit of "wow factor" to a room. There are so many options available now with oversized prints leading the way. Also, look for glammed up wallpapers that include metallic inks or Swarovski crystals. These shiny statement makers work well in entryways, dining rooms, and powder rooms. For max impact, use on all walls or even the ceiling. Wallpaper doesn't have to be relegated to just the powder room or above a chair rail.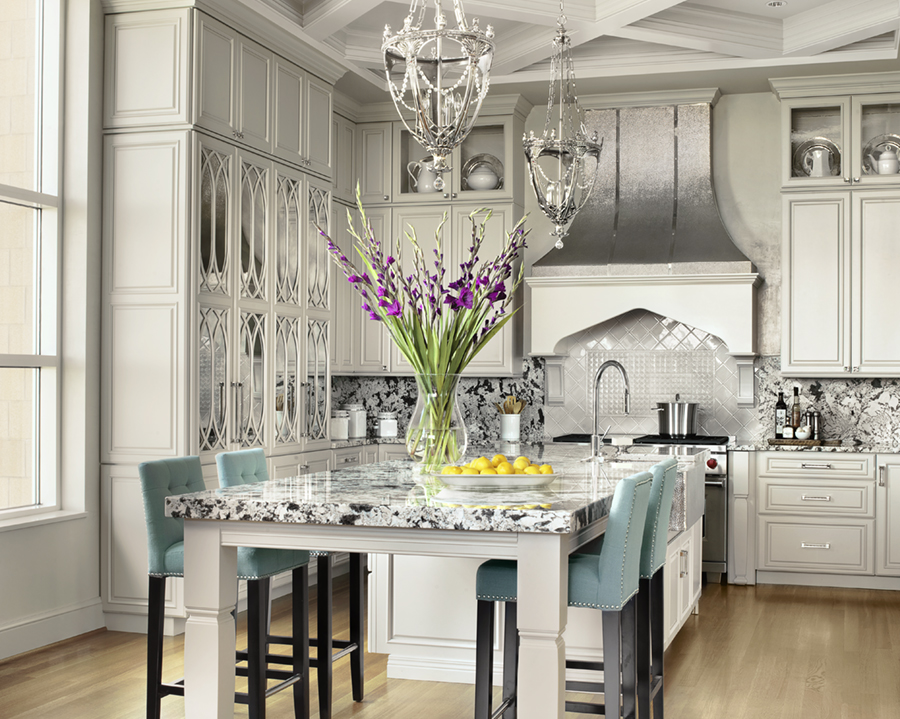 Custom Ceilings
The luxury house pays attention to this often-neglected space. Specialty ceilings add unique character to any room of the house. Statement rooms like the grand foyer, living, or dining rooms, or personal spaces like the master bedroom benefit from this next level of design. There are many options for custom ceilings: vaulted, exposed beams, coffered, and tray ceilings. Other ceiling trends are cladding a whole ceiling in wood or wallpaper, and bold paint colors. "Builder's white" is simply no longer the norm.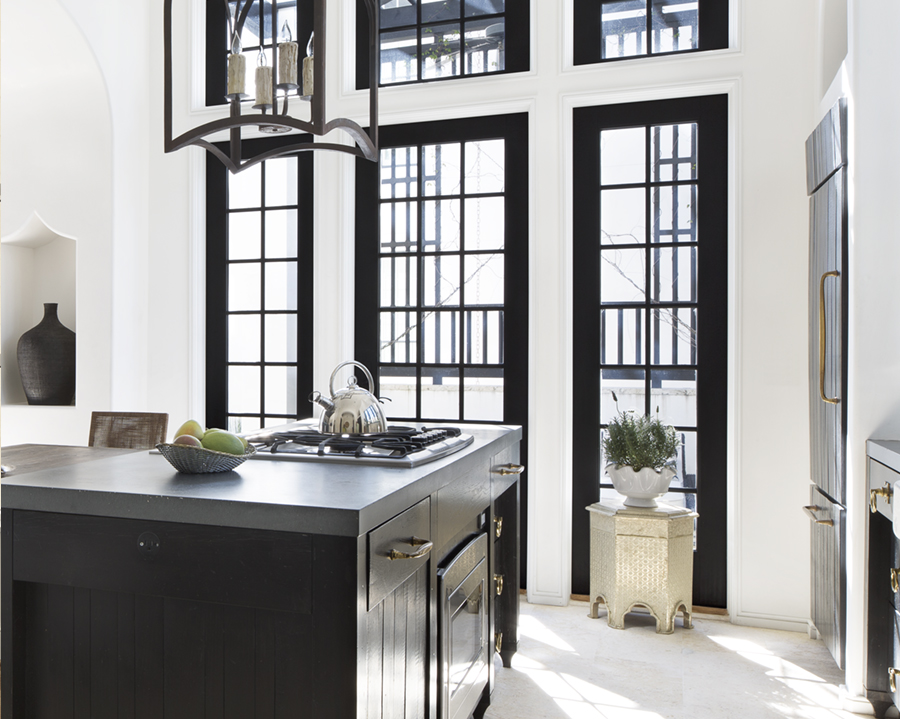 Black Windows and Door Frames
Goodbye white trim! Black-framed windows and doors can add exciting drama and style to space. They can set the scene for elegant and traditional homes as well as be dramatic in a luxury modern or industrial-style home. These black window and doors coordinate with just about any other color you put in the room. It's fresh, looks clean and modern all at the same time. Plus, when you're inside the home and looking out, black frames tend to disappear and you simply see the outside view.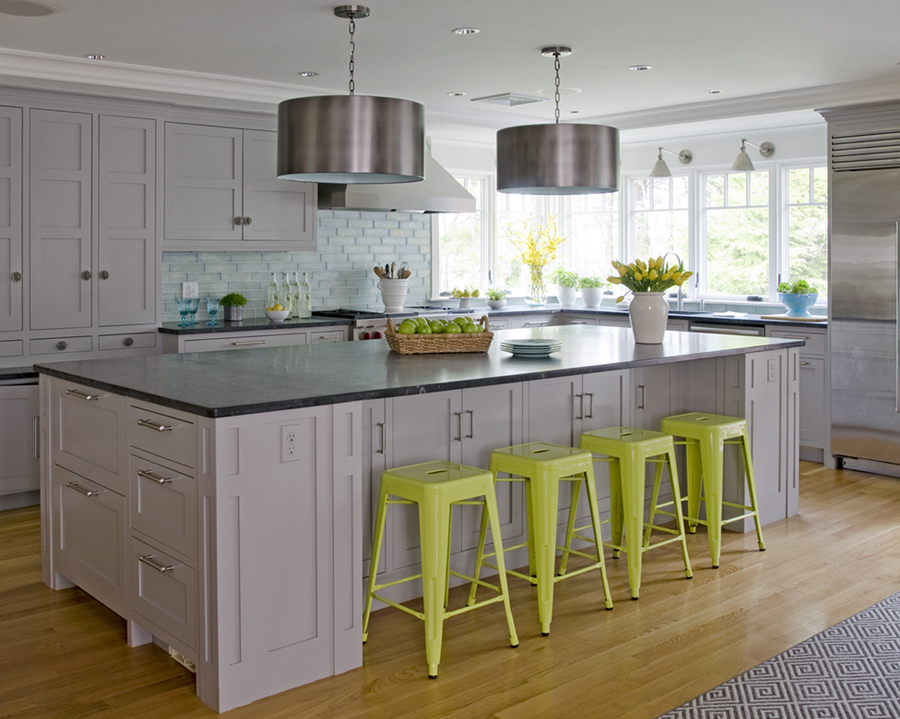 Gray Kitchens
Gray kitchen cabinetry are popping up all over the country. Gray is not as stark as a black and white palette. It's softer and lends a sophisticated air to a kitchen space. The shade of gray used most often tends to be on the darker side with more warm undertones. Fresh, light-toned cabinets are also beautiful when paired with darker walls or floors to help ground the space. When gray is used in a kitchen it usually blends two or three shades of gray together with white. Chrome, brushed silver, or black hardware are best as the jewels in the room.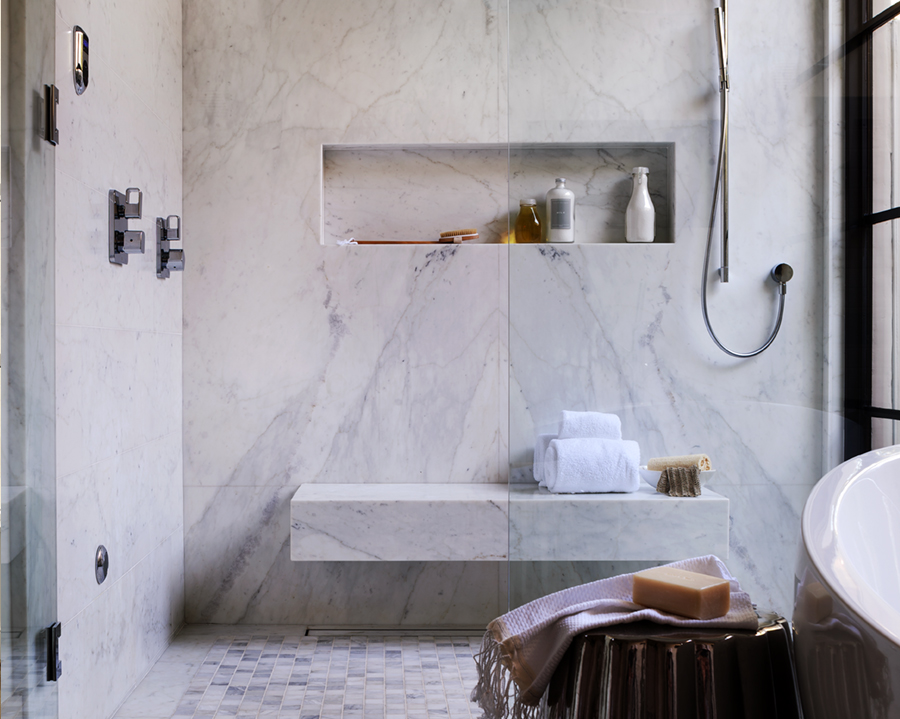 Marble Baths
This luxurious material is prized for its timeless good looks and beautiful variations. Whether it's on shower walls, floors, or countertops, marble continues to be the #1 material for bathrooms in luxury homes. It pairs perfectly with chrome fixtures for a classic yet fresh modern style. Marble bathrooms are finished with shades of gray or white paint for a dreamy, serene master bathroom.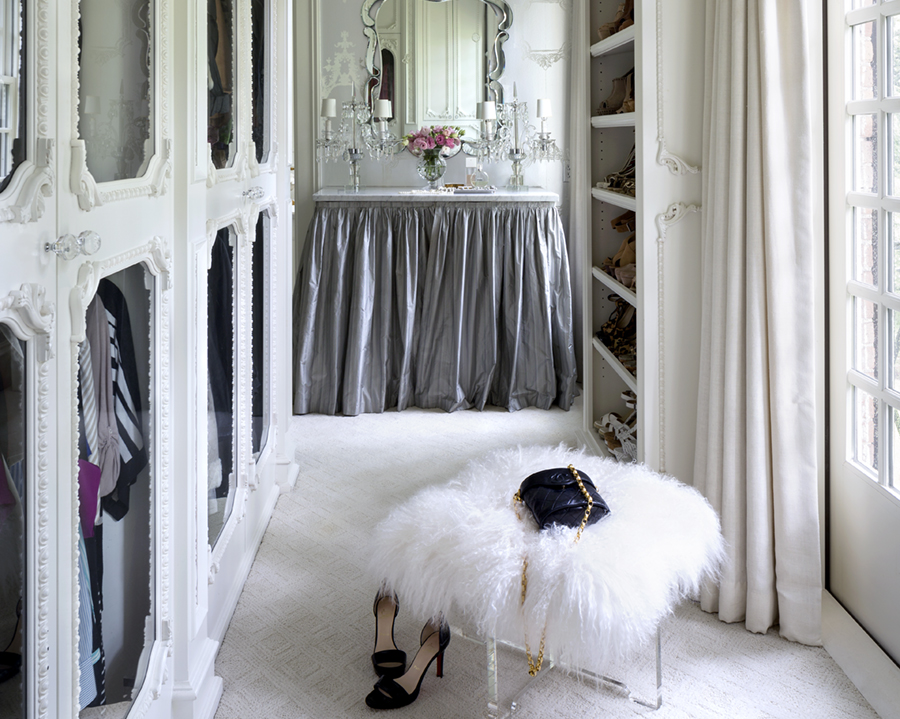 Dressing Rooms
Dressing rooms are definitely the "room de jour," like spa bathrooms were 10 years ago. They're designed expressly for the user as he/she gets ready for the day or a big event. His and her dressing rooms are being filled with amenities such as glamourous chandeliers, flat-panel televisions, refrigerators, cappuccino makers, and luxe furniture for lounging. It's the room that homeowners are increasing the budget for when building or renovating.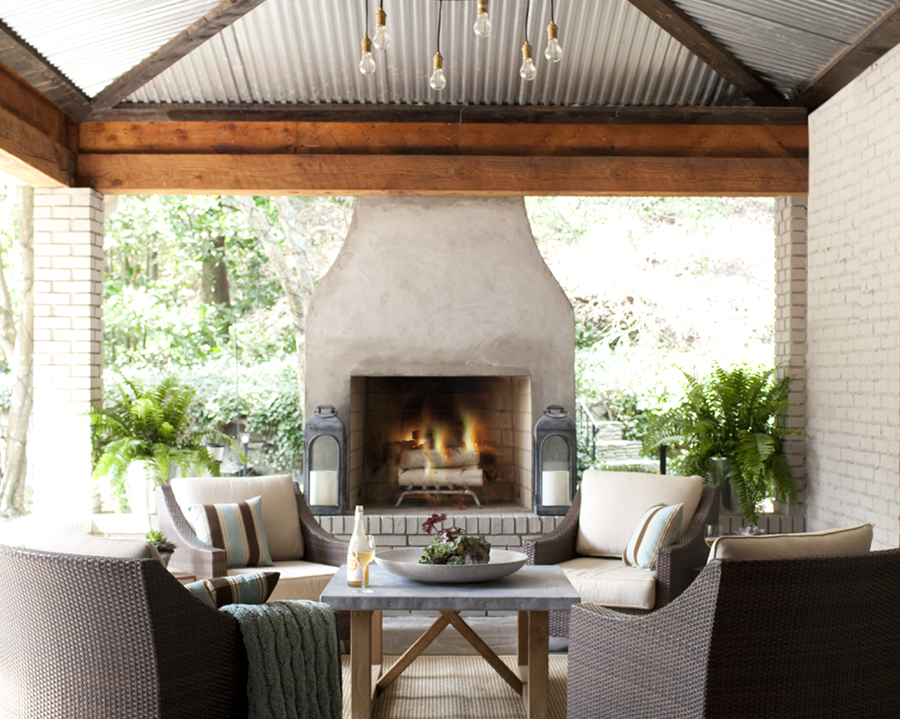 Outdoor Living Spaces
Outdoor rooms are the key to extending the living and entertaining spaces. Cover a portion of the outdoor space for "inside" amenities like flat-panel televisions, integrated sound systems, a fireplace, and a kitchen. Look for the lines to be further blurred by using as the same or similar indoor-grade materials and furnishings. Concrete flooring, wood tables and mix-and-match fabrics are great examples. Match the color palette of the adjacent indoor space for a seamless transition. For the ultimate in continuity, full walls of windows open to the outside entertaining space and hide away like pocket doors to let the fresh breeze and guests flow.
Copyright 2017 Meredith Corporation. Article and images used with permission.