Your guest bathroom should be an oasis for friends and family to unwind. The beauty of a guest bathroom is nobody uses it but visitors. Messy personal items are kept in private bathrooms, so the guest room always looks welcoming. Whether you invite people for the day or an extended stay, discover guest bathroom ideas to rival any luxury bathroom.
Keep It Simple and Fresh
Simplicity and freshness are essential in a guest bathroom, where different personalities gather. Some people prefer scent while others might be allergic. Keep aromas minimal, with a tiered candle display on the vanity or potpourri in a bottle on a shelf. Choose soothing scents that appeal to men and women, such as vanilla, grapefruit, and linen. Real Simple shares easy ways to keep the bathroom fresh, including washing soft surfaces, opening the window occasionally and getting a dehumidifier if the guest bathroom smells musty from disuse.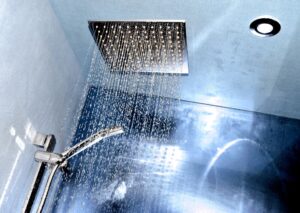 Invest in Digital Shower Fixtures
Eliminate the confusion associated with figuring out the showerhead and handheld fixture in the shower. Southern Living recommends adding digital shower fixtures to the bathroom to offer your guests the highest level of convenience, allowing guests to seamlessly get into the shower and enjoy their preferred setting for optimum comfort. Choose an overhead rain shower to immerse them in luxury. Add a digital fixture to the sink for guests to hold out their hands and washup with ease.
Offer Posh Towels and Robes
Provide the highest level of luxury in your guest bathroom with posh towels for both hand and the bath. Add a soft guest robe and slippers to make visitors prefer your home to a luxury hotel. Travel & Leisure reviews a variety of spa-inspired towels to transform your guest bathroom into a getaway oasis. Choose from Turkish bath towels, waffle weave, and other quick-drying options. Display plush bath sheets that make people ask to take a shower or bath when they come over.
Provide High-End Bath Products
Five-star hotels are known for their affiliations with high-end bath and personal care products. Provide an array of tempting options for guests, ranging from scent-free soap and lotion to aromatic hand cream and fragrant shampoo. Periodically update the bath products in the guest room to ensure they don't get old and unusable. Southern Living suggests adding loofahs and sponges made from natural materials to the bath for a spa feeling any time.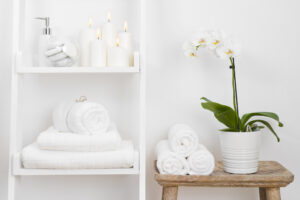 Maximize a Small Guest Bathroom Space
Is your guest bathroom a small area? Maximize the space in the Southern Living way with open shelves throughout the room for storage and a recessed cabinet over the vanity. Make the area appear larger by decorating with light-colored materials and adding a skylight over the tub or shower area. Try to select a small vanity with some counter space for guests to keep their items during their stay. Put up hooks to hang up hair necessities such as a hairdryer, hairbrush, and hair straightener.
Just Add Paint
If you want to transform your guest bath overnight, just add the right paint colors. Swap out dark, dated hues with natural, light ones for a modern feel. Bring the guest bath up-to-date with colors projected as most popular by Martha Stewart Living, such as pale blues and golden yellows. One of the easiest ways to update a guest bathroom is painting the walls and ceilings, making it much more appealing to potential buyers when you're ready to sell. Include earthy touches, such as a bamboo bath mat, vanity mirror, and a wooden bath brush on a hook.
Put Essentials On-Hand
Guests should quickly find necessities, such as toilet paper and soap. Tucking them away in a cabinet or vanity puts them out of sight and reach. If you need accessible storage, Martha Stewart Living recommends using a tiered bar cart in the bathroom. Use the shelves for essentials such as aspirin, hair gel, and razors. The bars are ideal for hanging extra hand towels and washcloths. Make the guest room a central zone for comfort with everything visitors need without asking.
An inviting guest room adjourning to a well-appoint guest bathroom provides an idyllic escape for your visitors. A few simple guest bathroom ideas turn an ordinary space into a luxury bathroom found in spas and hotels. Keep comfort in mind as you select soothing paint colors, soft rugs, and tech-savvy fixtures to create a guest bathroom you can't wait to share.