Whether you adore maximalist interior decor or brutalist design, a stunning piece of large-scale wall art will immediately fill your living room with a sense of luxury. Bold colors in your artwork can bring a visual warmth to the most minimalist spaces. Moody paintings can enhance the drama of a room, while geometric prints done in light hues shine in a setting otherwise done in a neutral palette. If you are curious about the best ways to incorporate this statement art trend during your remodel or refresh, read on as we reveal our favorite tips for using oversized art as a stunning element of your living room wall decor.
Starting with a Blank Wall
If you are considering doing a complete refresh of your living room decor, start by literally emptying the space. Feel how the walls flow vertically and horizontally. Notice where natural shafts of light occur and where supplemental lighting might be necessary. Having this blank canvas will allow you to truly make your collection of oversized art pieces (or even a single work) the talk of your living room.
In the case of statement art, bigger really is better. Oversized vertical paintings, photographs, or tapestries can dazzle on a tall living room wall (the same can be said for soaring entryways). If it looks like you could add multiple pieces around the artwork you are considering, your statement piece could get lost in visual clutter. It's a warning that you might need to go bigger. Residential designer Eric Rothman of HammerSmith explains to Southern Living: "'If you want to appreciate the art and the space, you'll create more impact by having fewer items dramatically displayed.'"
Making It Personal
If you are just beginning your art collecting journey, start with buying something that you love and let that inform the rest of your living room wall decor and furnishings. You can choose to paint the walls a neutral color to highlight your piece or change out the furniture, but, as interior designer Kathy Guyton of Guyton Design Group warned to Southern Living, "'don't buy a painting just because it matches.'" Rothman agrees, advising, "'art should be something that you have because you appreciate it and it's meaningful to you.'"
Adding Textures
When you incorporate impressive wall art into your living room decor, the colors referenced in the piece or pieces are not the only critical element. As interior designer Mariette Himes Gomez recommends to Martha Stewart Living, homeowners should "include items that are not only visually stimulating in terms of their shapes and colors, but also have interesting textures, such as marbles and textured fabrics." In fact, woven wall hangings are becoming more popular by the day. The striking array of textures, colors, and patterns that appear in a handmade tapestry bring visual interest to any setting, from a 13th-century castle (like the one fashion designer Christian Louboutin owns in France and showcased by InStyle) to a minimalist haven or a Bohemian-inspired retreat.
Keeping It Level
Depending on your living room's dimensions, balancing your furniture and your statement wall art may be as easy as placing each of your hanging pieces on the same level. It's a strategy that interior designer Curtis Herring used in his own home in New Orleans. His luxury space features a stunning mix of modern paintings, and "by keeping the artwork on a large scale and hanging the pieces at roughly the same height all around the room, he made each piece look as important as the next – just like in a gallery," according to Southern Living. Herring also chose living room furniture that kept a low profile allowing the art to shine. Each well-designed piece either draws the eye to the artwork or complements it through color references, patterns, or structure. Are you concerned that hanging a large vertical art piece on your wall will feel overwhelming or compete with another architectural element near the ceiling? Try leaning a vertical piece against the wall – it will still have a significant impact on your living room wall decor while avoiding any areas that might compete for your eye.
Unifying Living Room Decor
Southern Living argues: "A piece of art, a color, or even a texture can help bring a room's design together." You can choose furniture and textiles that color match your statement wall art – a particularly popular approach when you have a neutral palette for your living room decor. You also can draw design inspiration from vivid, bold artwork by referencing any of the vibrant shades in your furniture coverings, drapes, or accessories. Dramatic floral panels offer a color spectrum that the furnishings can extend by either deepening the hues or going towards lighter shades. Even eye-catching paintings in primary colors can offer a theme that can impact accent choices in modern homes.
You can go beyond color with your decor choices. There may be lines or angles in a photograph or painting that can be complemented in the angles of your coffee table or the curve of your sofa. Or you can directly mimic elements from the artwork in your accents, as interior designer Mariette Himes Gomez did by "[employing] a vividly hued European still-life, which she [paired] with a small bowl of marbles — mimicking the bowl in the painting," according to Martha Stewart Living. The effect on the living room decor can be delightfully visually stimulating and immediately enlivening.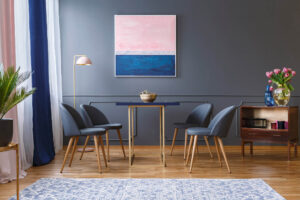 Creating Contrast
A statement piece of art is by definition eye-catching, but it can be arresting when it sits in contrast to the rest of the room. This is often the case when bold modern pieces are added to living room walls where the decor is minimalist or brutalist and utilizing an all-white, light concrete, or neutral palette. Picture a stark industrial background punctuated by pop art done in vibrant primary colors or a geometric theme contrasted against softer, organic elements. Black and white photography can have a powerful, emotional impact on the viewer, and it works brilliantly against more colorful living room decor, as well as dramatic, monochromatic spaces.
Transforming Unexpected Places
Stunning wall art can also be used to bring attention to some unexpected (and often neglected) areas in your home. An impressive sculpture could command attention in a living room corner that would otherwise remain ignored. Even architectural elements, such as handmade window segments can become striking works of art when displayed properly. As Southern Living raves: "Three-dimensional art, including architectural fragments … can add a special element to any space. A window frame, a finial, or even a tapestry can enliven a room and serve as an interesting focal point."
Highlighting Each Artwork
Each of your carefully chosen art pieces deserves to be displayed in the very best light. And we mean that literally. Direct natural sunlight can severely damage the pigments used in a painting over time, so be careful what kind of artwork is displayed where, and consider introducing subtle shading that will block harmful UV and infrared light. Fluorescent lights and other bright white bulbs can produce a disturbing glare and should also be avoided when possible. Instead, try a variety of adjustable lighting techniques to highlight your art. Adjustable options, including LEDs, can be positioned to showcase your living room wall decor to its best advantage, whether that means brighter spotlights for dark, detailed art pieces and sculptures, or softer beams that help moody or warm, rich paintings glow.
Visit Distinctive Collection by Better Homes and Gardens® Real Estate when you begin your journey to buy or sell your unique home.