White kitchens are timeless. From the cabinets to the backsplash, an all-white kitchen provides a neutral backdrop that showcases your culinary creations to perfection. It's also a natural canvass for highlighting your personality when you add bursts of color into the mix. If the possibilities for updating your kitchen feel overwhelming, read on for a variety of new ideas for adding "pops" of visual interest to your sparkling kitchen.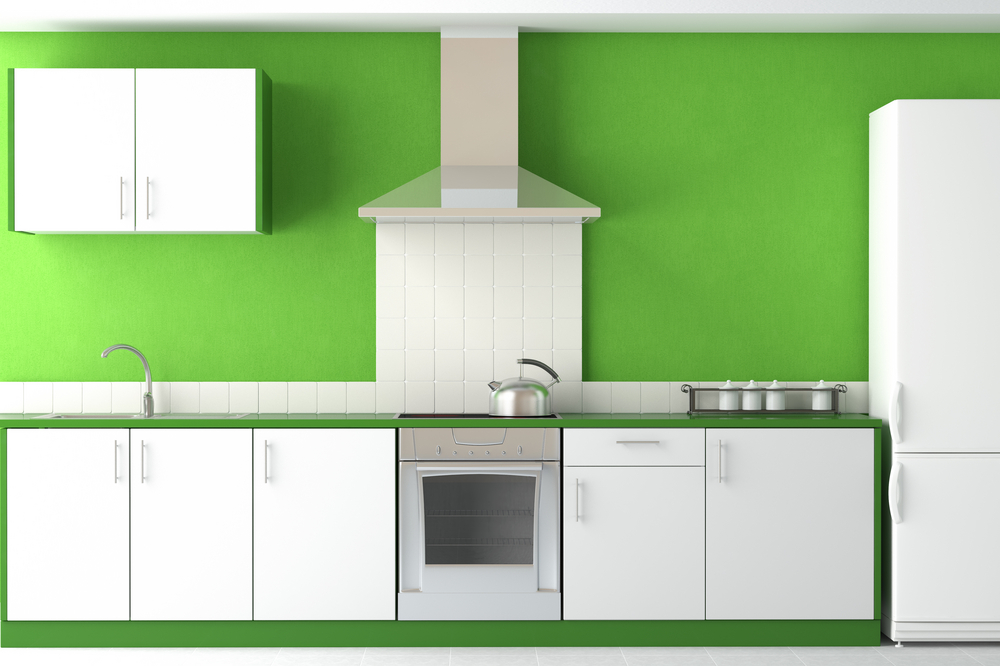 Add Bold Wall Colors
Using a bold color in an otherwise all-white kitchen is unlikely to feel overwhelming. If you have a favorite color, feel free to create interest in your space by painting the walls, while leaving the cabinets, window trim, kitchen sink and other items gleaming white. Do you have open shelving or glass cabinet fronts? Don't be afraid to add your favorite hue, or even wallpaper, to the wall behind the shelves for a fun pop of color.
Quality paint is the fastest and most flexible way to make this transition, but if you are looking for a new idea for adding texture to your kitchen, consider adding vivid tile. Designer Meg Braff featured teal blue tile in a modern kitchen unveiled in Southern Living. The Magazine notes that "[t]he look of this kitchen hinges on the contrast between blue and white," with the colorful subway tiles being slightly larger than the traditional versions. From behind the cooker to the wall space around the window and the floating shelves, the vibrant color delights the eye.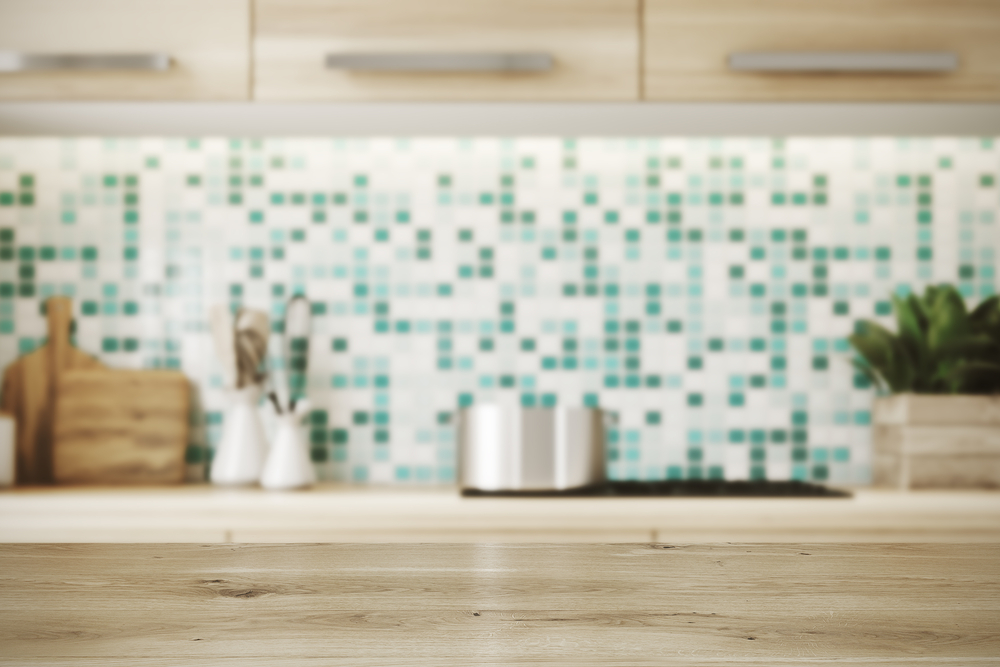 Make Your Backsplash Sing
Making even a subtle color change to your backsplash can freshen up your kitchen so that it feels new again. Does your kitchen overlook a lush green lawn, towering trees or dazzling blooms? You can bring those elements inside by choosing a backsplash in a complementary color. Designer Melissa Haynes tells Southern Living that she "carefully chose a palette of green and orange accents" for her latest redesign. The light green shade on the subway tile runs behind the sink and perfectly complements the green hues of the garden that can be seen just beyond the window. The Magazine notes that "[m]ixing metals, such as brass hardware with stainless steel, provided the ideal finishing touch to modernize the look."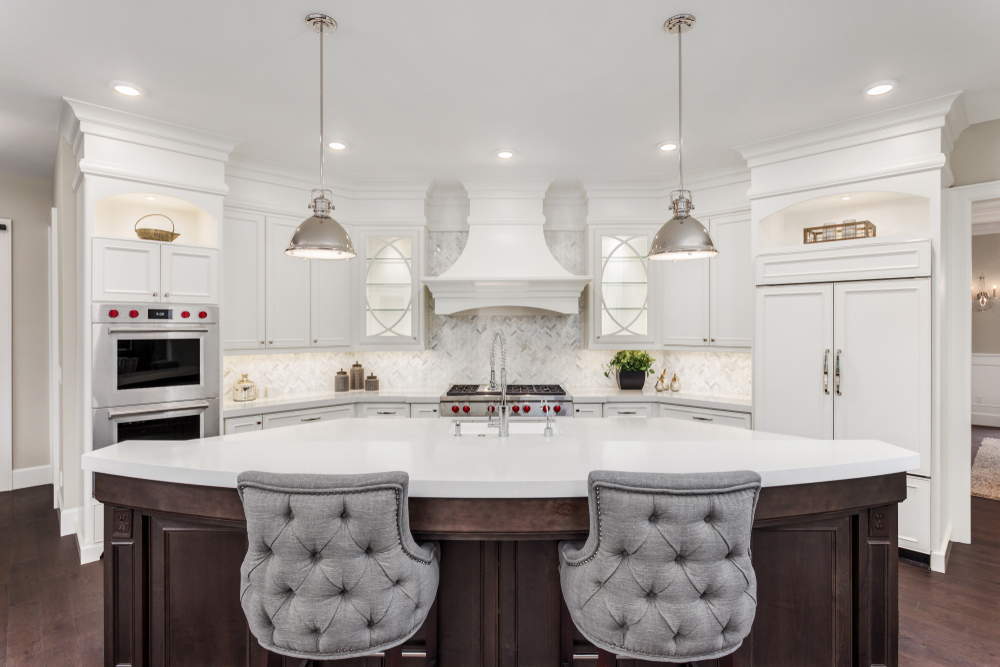 Splash Color on Your Kitchen Island
When you are working with open floor plans, an all-white kitchen may feel too far removed from the palette in the rest of the home. Your kitchen island can bridge this divide with the incorporation of color, using paint, tile or even stained wood. Imagine your kitchen island with a beautiful quartz or marble waterfall countertop that is contrasted by one of this year's most popular moody colors or a muted version of the colors already found in your dining or living room. Martha Stewart Living points out that the idea of adding "color in smaller concentrated areas [is] a way of adding dimension to the room."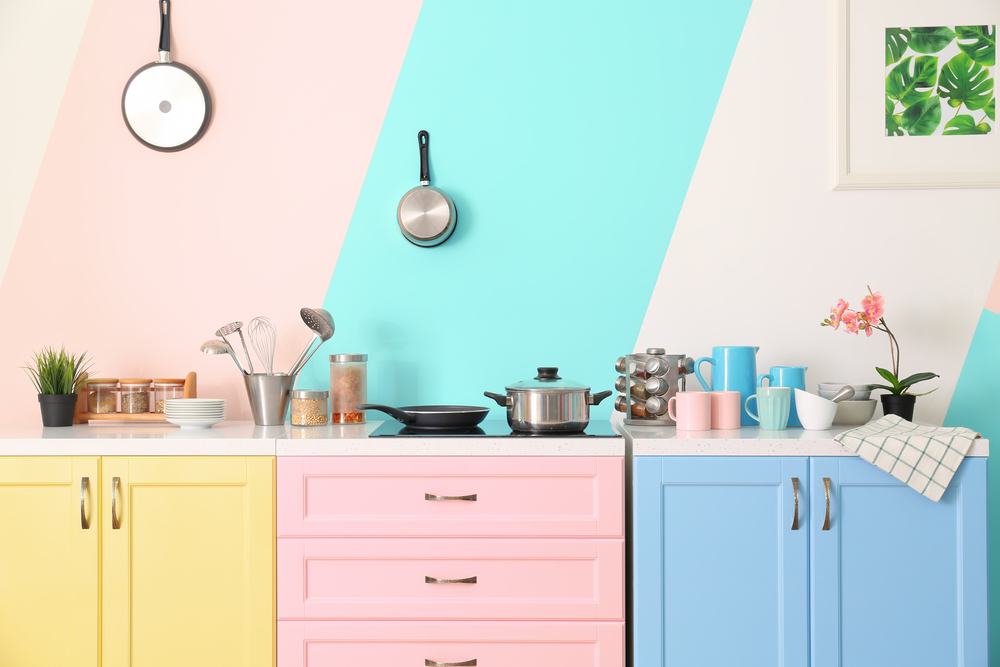 Create a Visual Mix with Your Cabinets
In addition to adding color to your kitchen island, you can start to experiment with adding new colors to your bottom cabinets. While your top cabinets (or floating shelves) may be glossy white, your bottom cabinets can range from light shades of green to deep peacock blues or even graphite gray. Designer Barbara Bestor told Martha Stewart Living that the new idea of using deep gray in a recent kitchen reimagining was a "nod to the house's old New England-style exterior" and that the color was "also used on the window trim throughout the house, which keeps the overall look cohesive."
Do you have matte white upper cabinets? Matte colors for the bottom cabinets and mixed metals in the hardware will also give your kitchen a new pop of color and an updated feeling. Soft grays have been popular, but the growing trend is to incorporate deeper, moody colors (including hunter greens and navy blues) into your kitchen palette.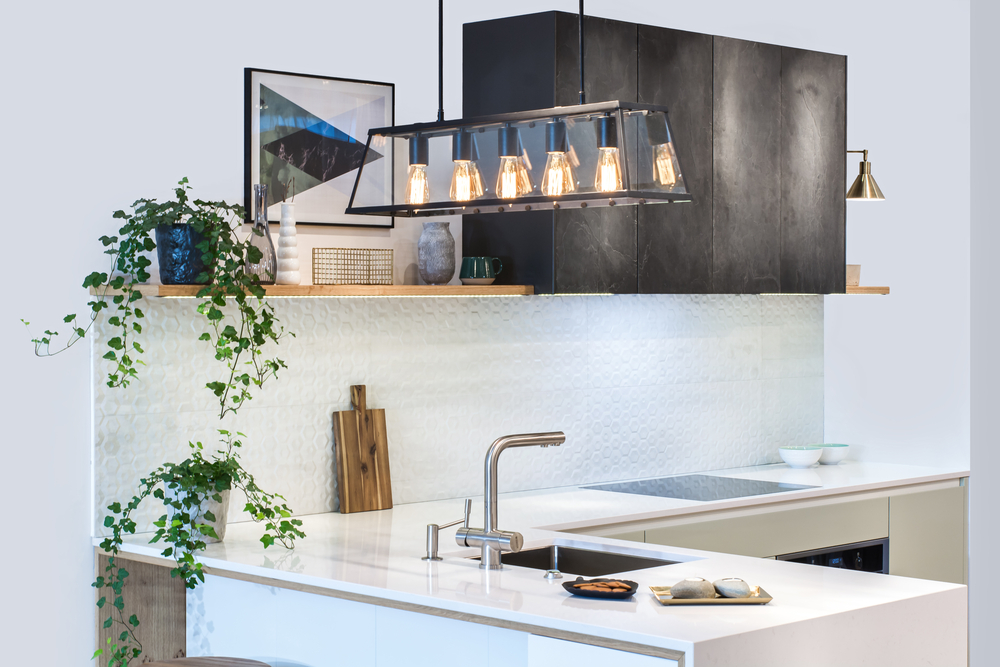 Hang Vintage Lighting
Are you in the process of updating your beach house? An all-white kitchen can instantly feel more vibrant with the addition of hanging lights cloaked in vivid hues. "Reflecting tropical foliage just out the window, a pop of kelly green overhead via vintage gymnasium lights strung on rope gives [a] white kitchen a welcome dose of island color," explains Coastal Living. Meanwhile, Designer Suzanne Kasler tells Southern Living that she recently used "hammered metal pendant lights" as a modern counterpoint to a mostly white kitchen. Do you have a more nature-inspired or rustic decor? Southern Living suggests adding "a pair of antique wooden chandeliers over the island [to] complete the look and lend a sense of age…"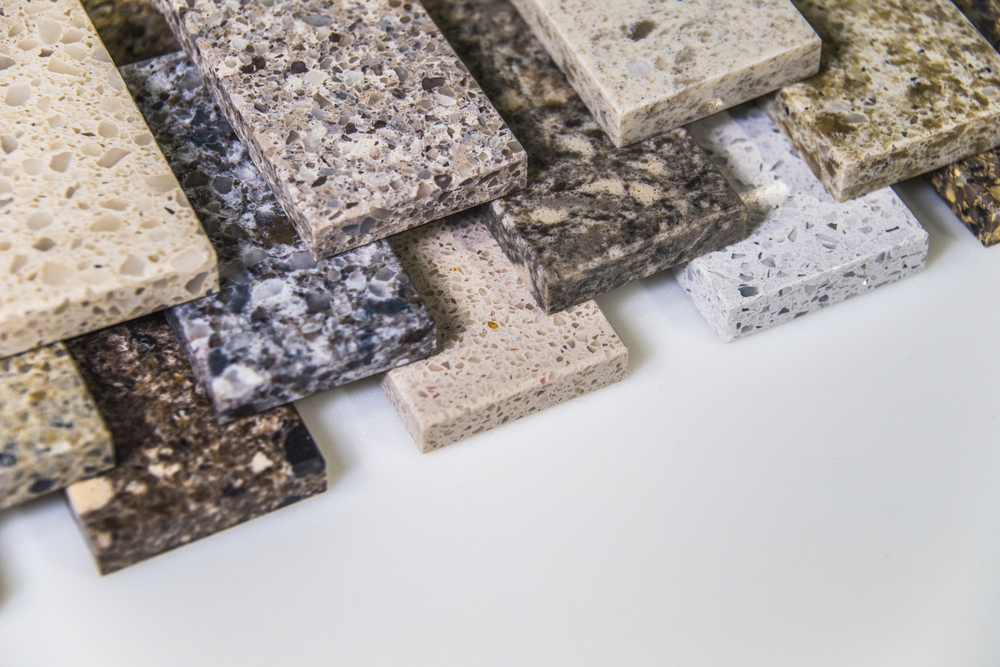 Incorporate Dramatic Countertops
If part of your new kitchen makeover involves replacing your current countertops, this is a terrific place to add some drama to your space. Start by reviewing the array of quartz countertops currently available. You'll be amazed at the color possibilities, as well as the impressive veining that can visually elevate your kitchen once installed. The idea of slate countertops is starting to turn heads. According to Southern Living, "Virginia slate countertops and a custom sink contrast with the clean white cabinets, shelves and backsplash," giving your space a sophisticated feel. If you are interested in bringing charm to your coastal abode, Coastal Living explains that "[c]haracter reigns in [a] white kitchen with an antique butcher block and copper and cypress countertops." The mix of the metal and wood brings charm and warmth to the room.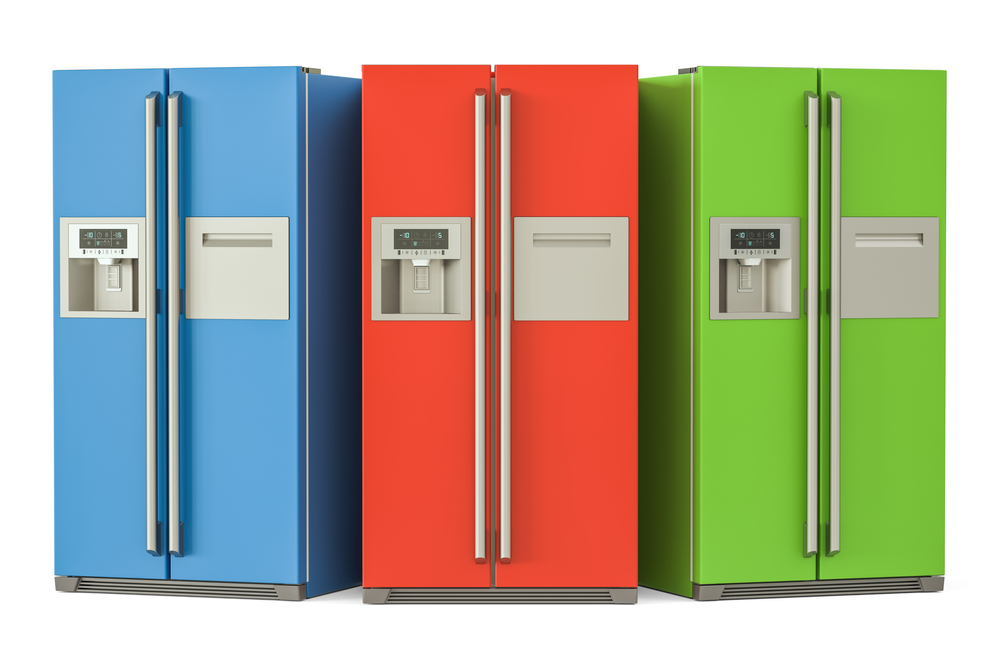 Showcase Eye-Catching Appliances
The current trend of matte black appliances might seem like a bold choice against all-white cabinetry, countertops and walls. However, the idea is becoming increasingly popular as a sophisticated contrast. It's a dramatic idea, while still providing an elegant visual. New high-end appliances are not only offering professional features for residential kitchens, but they are coming in a wide range of colors and patterns. Picture a fire engine red front for your six or eight-burner cooker. Blenders, toasters and other countertop devices are increasingly available in hues of deep orange, red, yellow, green and blue.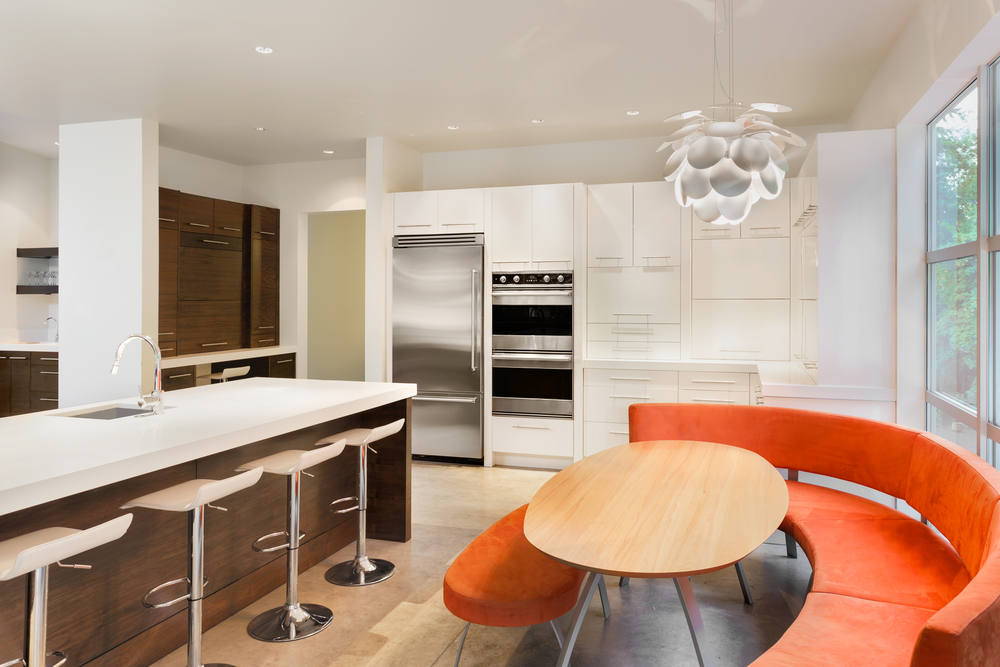 Integrate Inviting Seating
Whether you are adding upholstered bar stools to one side of your kitchen island or integrating a banquette into your eating nook, there are numerous ways to bring color into the space via seating. If you have chosen a deep red cooker, consider changing the fabric on your chairs or banquette to a matching or complementary shade. Older chairs can have seats reupholstered to bring in the colors of your garden, to reflect the shades of your accent walls, mirror your pendant lights or bring in a new design element. It's the perfect way to infuse your favorite color into your updated kitchen.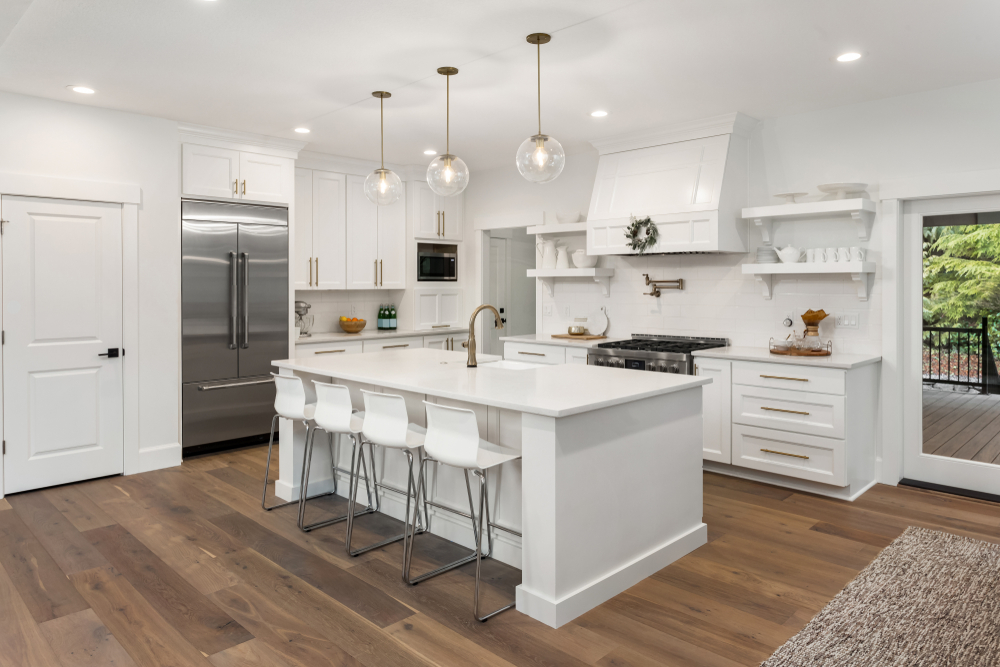 Lay Contrasting Flooring
With a clean white backdrop, you have a seemingly endless number of flooring options that will bring new pops of color and interest to your kitchen. Dark finishes to hardwood floors in your kitchen add warmth to the space. Southern Living raves about the effect of adding "rich heart-pine floors salvaged from a dilapidated cotton warehouse…" to a recent farmhouse kitchen redesign. If you live in a particularly warm climate, brightly colored floor tile will add a burst of color while helping to keep the space cool and easy to clean.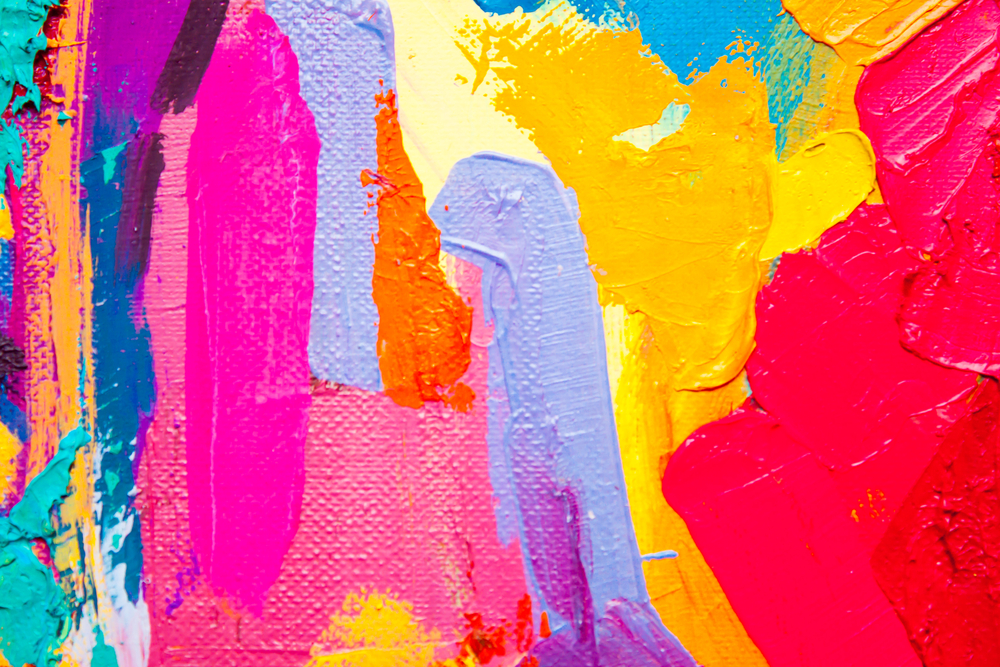 Decorate with Artwork
Do you have a piece of art that has been in storage for far too long? It may be time to reconsider it. Colorful pieces may be just the thing to add visual interest to your kitchen. You may even find that the colors in the artwork inform hues for new appliances, seating upholstery, table cloths and vases (or even the flowers themselves).