By Jennifer Adams
Because we spent much more time at home, the pandemic created demand for a more luxurious home environment and lifestyle that spurred new trends, such as multiple Zoom-friendly home offices and study areas for kids. It also accelerated existing trends such as outdoor living spaces that function just as well as interior spaces, which effectively increased the square footage family members could roam around in.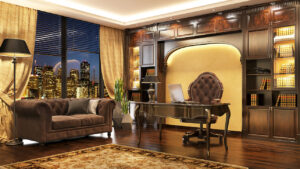 DUAL HOME OFFICES
Ironically, as the desire for more places to work throughout our homes increased, including outdoors, so did the desire for at least one (if not two, for some households) completely separate and private home offices for all those teleconference calls! Not to mention spaces for kids to study or even small pods of neighborhood kids to be homeschooled.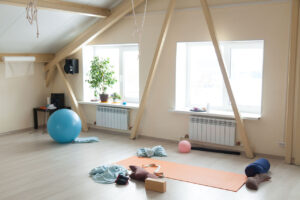 GYMS & WELLNESS SUITES
Trends for in-home exercise and wellness are increasingly both high-tech and no tech, often at the same time. We enjoy our digital mirrors for Zoom classes and Peloton bikes in spaces that are earthy and natural, perhaps even outside or with a wide door opening to a lovely view into the yard.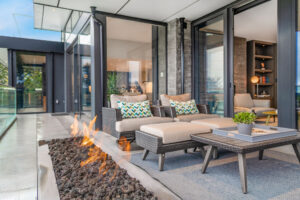 OUTDOOR SPACES
Improved outdoor living areas will continue to grow as our desire for fresh air, nature, and living space increases. Outdoor spaces are now as much a part of a home as living rooms and kitchens, with hardly any separation between the two. In addition to outdoor dining and relaxing in sumptuous furniture arrangements similar to indoor living and dining rooms, ceilings planes, and flooring extend inside and out with continuous decks through generous openings that can disappear from view. Electronically controlled glass doors that fold, slide or roll up like a garage door make fresh air possible with the touch of a button! Screens that drop down from the ceiling help outdoor spaces feel even more like the indoors as they help shield the sun and allow the area to stay warmer and less breezy.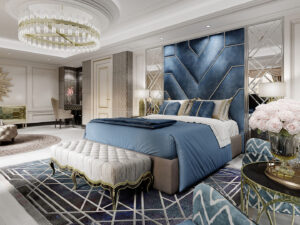 NEW LUXURY FURNISHINGS
High-end, well-crafted and durable furniture, area rugs, upholstery, and bedding can make our environment better looking and more relaxing without being as disruptive as remodeling projects. High-performance and indoor/ outdoor fabrics have never looked better. We're seeing them as a go-to for indoor upholstery. It makes living just a little bit easier. Spills clean up so much effortlessly. Natural woods in organic shapes look great in almost any environment. We also see clean lines on upholstered pieces— nothing too fussy right now.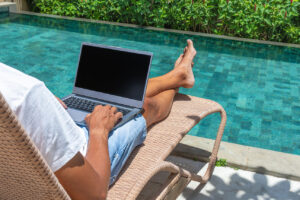 OUTDOOR RECREATION ACCESS
The ease of working remotely and having food and merchandise delivered during the pandemic made people notice that living close to a city wasn't as important as access to outdoor recreation. As a result, many moved to places or spent extended "workcations" further away from urban centers.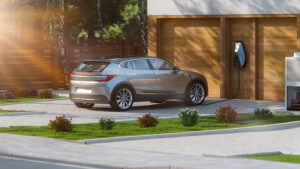 NEW TECHNOLOGY INVESTMENT
It's easier than ever to have connected technology in every room of the house, indoors and out, that we can monitor remotely from our phones. Security systems such as Rings also have a social component with neighborhood forums online, can help local police solve crimes, and let you know when a package is delivered. In addition, smart refrigerators monitor the contents, update your grocery list, and order delivery. Even the garage is getting connected to better monitor electric car chargers and software upgrades to the Tesla car and others! Landscaping sprinkler systems and lighting are programmable for water conservation and efficiency. Heating systems, indoor lighting, automatic window treatments, and more also save energy throughout the house. Solar panels and other alternate energy sources can also be monitored for efficacy.