Luxury hotels around the world are tempting visitors with afternoon tea parties that they have elevated into a unique art form. Whether you want an afternoon tea party inspired by fashion or a refined high tea in Cape Town, the experience is available and fabulous. Keep reading to discover 12 hotels who have created a new style of tea party.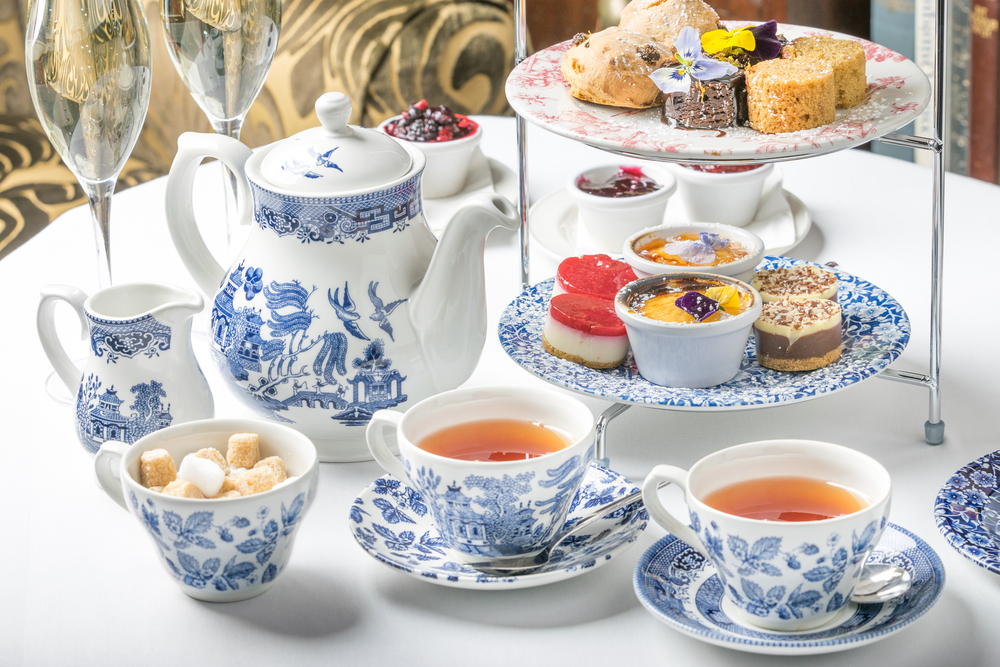 Afternoon Tea Versus High Tea
Typically, an afternoon tea has referred to festivities with two courses: light finger foods plus sweet treats complemented by the tea of your choice. This follows a long tradition that once was only enjoyed by royalty and the very wealthy and usually occurred between lunchtime and dinner. "High Tea" once referred to a heavier repast enjoyed in the evening by working-class families. As the popularity of the tea ritual has grown, many establishments have merged the two names, offering a variety of options to tea party fans. Be sure to check each tea menu carefully before arriving or making reservations to avoid any confusion.
InterContinental London Park Lane (London, England)
The tea experience in the Wellington Lounge of the InterContinental London Park Lane is not only popular with locals and travelers but, according to Travel + Leisure, it has been given an Award of Excellence by The U.K. Tea Guild. Why is this afternoon tea so extraordinary? It goes beyond the traditional by taking the classics and infusing them with a contemporary flair. The "Royal Afternoon Tea" is inspired by the rich flavors found in the Commonwealth countries that have been visited by Her Majesty the Queen during her reign. The impressive views of local landmarks perfectly complement the extraordinary culinary experience. If all of that isn't enough to make you feel like royalty, you will love knowing that the hotel is on the former site of the Queen's childhood home.
Taj 51 Buckingham Gate (London, England)
Taj 51 Buckingham Gate tempts visitors with two completely different experiences: one that evokes the traditions of India and another that recreates a literary wonderland. The "Jasmine Indian Afternoon Tea" combines eastern and western teas with delicious dishes that reveal the diverse flavors of India. From crispy chicken tikka spring rolls to spiced creamed cheese sandwiches, your first course will delight. It is perfectly followed by a traditional Gulab Jamun, as well as an array of cakes, pastries and scones. Visitors also can choose to go down the rabbit hole and experience "Afternoon Tea in Wonderland." Befitting the name, this tea party offers a menu of pastries, cakes and sandwiches inspired by the fantastical characters and quirky aspects of Alice's Adventures in Wonderland. Sample everything from the 'Queen of Hearts' mango tarts to the 'Drink Me' strawberry potion. A vegetarian menu filled with equally delightful concoctions is also available.
The Berkeley (London, England)
Fashionistas will not want to miss having an afternoon tea party at The Berkeley. Officially dubbed "Prêt-à-Portea at The Berkeley," this experience changes by season and is always a reflection of the works of legendary fashion designers. Among the most recent inspirations are the iconic designs of Christian Dior. The couture collection has been reimagined into extraordinary biscuits, baked goods and "fancies." Tea sandwiches, savory skewers and canapés are also on the delightful menu. Pair a loose-leaf tea from their impressive collection or add a glass of Laurent-Perrier Champagne to the experience.
Merrion Hotel (Dublin, Ireland)
Not only has The Merrion Hotel embraced afternoon tea as an art form but works of art have literally inspired it. According to Food & Wine, the hotel's pastry chef (Paul Kelly), a member of the Irish Olympic culinary team, "thought it would be fun to create a tea around the hotel's private art collection, considered the largest in Ireland apart from the National Gallery."
Relax in the colorful Georgian drawing room as you sample the extraordinary offerings, including the "LEGO-like" hues of the feuilletines, macaroons and mousse. Every pastry is a unique creation giving you an excellent excuse to return again and again.
Anantara Siam Bangkok (Bangkok, Thailand)
While visiting Bangkok during the hotter months, your first instinct might not be to spend hours at an afternoon tea party. However, the undeniably cool (in temperature, as well as styling) lobby at the Anantara Siam Bangkok may change your mind. The hotel goes beyond the traditional with some savory snacks that will thrill foodies. Departures suggests trying the "spirulina croquettes, and mini charcoal croissants with ham, cream cheese, and fresh lettuce" before moving on to the lemon custard tarts and other sweet treats.
The Peninsula (Shanghai, China)
If you are traveling in Shanghai and want a truly posh afternoon tea party experience, visit The Peninsula – but be prepared to spend some time to enjoy every magical moment of it. Sit back inside the Art Deco styled room and let the sounds of live jazz piano wash over you or relax on the terrace as you gaze out over the skyline. Savor the flavors of their extensive tea menu or, as Travel + Leisure recommends, you can "elevate your sugar high even further with a Champagne upgrade." Silver trays are laden with mini cheesecakes, scones with homemade strawberry jam, chocolate orange brownies, smoked salmon and many other delights.
The Upper House Hotel (Hong Kong)
Café Gray Deluxe is enviably located on the 49th floor of The Upper House Hotel in Hong Kong and features an extraordinary afternoon tea party experience that is every bit as swoon-worthy as the fantastic skyline views. As Departures notes, "the cafe's lengthy afternoon tea menu includes Asian-influenced snacks such as prawn, nori, and mango tea sandwiches with bergamot mayo and chili, matcha cheesecake, and jasmine macarons." Their mini bottles of Champagne are always a tempting upgrade, as you revel in every taste you encounter. If all this weren't enough, tea party guests are often awarded beauty gift sets, with the most recent gift including items from Le Labo
InterContinental Sydney Double Bay (Sydney, Australia)
The Stillery restaurant and bar inside the InterContinental Sydney Double Bay thrills guests of all ages with its array of glamorous tea party options. Never fear, traditional offerings are on the menu and done to perfection. However, if you want to try something new and even more decadent, you can. The Asian-inspired "Oriental High Tea" showcases delicious blends paired with items like steamed dumplings that satisfy. Do you have a sweet tooth? Departures recommends trying the "Chocolate High Tea" that also comes with savory bites. Upgrade with a glass of Champagne or swap that for some three tantalizing mini martinis. If you are visiting with Children, they will be dazzled by the treats, complemented by hot chocolate or other tasty beverages.
The Silo Hotel (Cape Town, South Africa)
If you are looking for the perfect blend of South African flavors and a classic afternoon tea party, The Silo may have your answer. The range of teas available is extensive, and the offerings include tea grown in the Cederberg Mountains. Relax in the Granary Café, located on the hotel's sixth floor, and enjoy the stunning views of Table Mountain and the waterfront as you indulge. The editors with Departures rave about the culinary offerings, explaining that "[p]astry chef Devin Jones infuses his chocolate petit fours with cardamom—a spice commonly used in Cape Malay cooking—and stuffs his beef empanadas with curried mincemeat, almonds, and raisins in a nod to the traditional Cape Malay dish called Bobotie." While the afternoon tea does not require reservations, the more extensive "Royal High Tea" does.
Baccarat Hotel (New York City, New York, U.S.)
Afternoon tea in New York's Baccarat Hotel has become an international affair. It is described by Departures as a "lavish and immersive cultural experience with several menus inspired by palaces around the world—including, Turkey, Russia, and, naturally, the U.K." The hotel offers a "tea sommelier" to help visitors pair teas from partner Mariage Frères of Paris with decadent repast from their chosen menu. One of the more recent additions is the Sultan Abdülaziz experience. Food & Wine describes it as a high tea experience beginning with tea poured from a "24k gold-plated teapot shaped like a camel" complemented by "house-made labneh sorbet with shaved rose halvah, sliced candied kumquats and dried rosebuds." No matter which experience you choose, be sure to allow at least two hours in your schedule to fully appreciate the indulgence.
Hotel Bel Air (Los Angeles, California, U.S.)
In Los Angeles, afternoon tea is done with a healthy flair that still feels decadent at Wolfgang Puck inside the Hotel Bel Air.  As Departures notes, the restaurant's tea service focuses on "organic ingredients—think Japanese-cucumber sandwiches, organic Jidori chicken salad, and, of course, Haas avocado toast…" along with items like smoked salmon, blue crab rolls and sweet treats.  There are sugar-free alternatives, a tea service that caters to children and "Royal" tea option which includes "adding a glass of JCB No. 21 Crémant de Bourgogne" to the refined festivities.
Hotel deLuxe (Portland, Oregon, U.S.)
Hotel deLuxe in Portland, Oregon tempts visitors with traditional English tea service done in partnership with Steven Smith of Tazo. Want a uniquely Portland spin on the proceedings? Ask for the hotel's specialty tea cocktails. However, the cocktails aren't the only reason that the Hotel deLuxe frequently makes the list of favorite tea party spots. According to Food & Wine, "[f]urry travelers are also getting their moment in the high-tea spotlight." The special treat is served in the lobby and is noted as including herbal tea blends that are ideal for calming the nerves. This way, both you and your pet can celebrate in style while visiting this charming hotel.