A well-organized closet doesn't have to remain a dream. Whether you have an entire room to convert into a dressing area or want a custom-designed walk-in closet to replace your existing space, your perfect closet can soon become a reality. It just takes patience, a clear picture of your wants and needs, and some creativity. Read on as we reveal expert closet organization tips to help guide your renovations.
Prioritize Organization and Decluttering
Experts stress that the one closet organization tip that applies to nearly everyone is prioritizing decluttering before a single bin, hook, cabinet, or dresser island is installed. InStyle recommends that you start by "[separating] clothing that needs repairs or alterations – missing buttons, stuck zippers, hemline taken up – so each item in your closet fits and is in good condition."
Pull everything out of your existing closet, cedar chests, and dressers. Honestly assess whether or not you will ever wear that dress, necklace, scarf, or pair of boots again. The old rule used to be that if you haven't worn an item in 12 months, it might be time to donate it. Given the changes in work-from-home and socializing routines over the last couple of years, you may want to hold on to some items (like corporate office attire or cocktail dresses) a bit longer. However, for most clothing items, you should feel free to organize your closet items into keep, donate, toss, or consider piles. InStyle suggests looking at anything that is a "maybe" again in 24 hours. After that, if the item doesn't spark joy, as Marie Kondo is famous for saying, it is time to acknowledge the items and send them on their way.
Choose a Closet Organization System
Your dream closet should be highly personalized. Whether you commission a custom-build from scratch or pay a craftsperson to tailor an existing system, your closet organization system should fit your personality and needs. How do you want the space to feel? Should it be modular so that it can be moved and expanded without changing any original architectural details (like molding)? What are your storage requirements? Do you want only to use eco-friendly materials?
If you are a visual person, you may prefer to have most of your clothing items on a hanging rod or open shelf rather than tucked away in drawers or placed in decorative bins. That means that when designing your new closet, you should focus on adding double rods, slanted shelving, or open shelving to increase daily functionality. Sustainable Paulownia wood bins are gorgeous, but if you forget what is in them the minute they are placed on an overhead shelf, they aren't as useful as stacking folded items on an open shelf or in a cubby that is at eye level.
Southern Living advises those designing a new space to maximize the space's utility. According to the Magazine's organization experts, "items should be stored by frequency of use" so that you don't find yourself wading through seasonal items or accessories that only get used once or twice a year when looking for your go-to handbag. Another closet organization tip that their experts favor is to design your closet as if it was a house; "'the eye-level racks, rods, and shelves are where your everyday life occurs,'" while "'upper shelves all the way to the ceiling act as your 'attic' where you should keep infrequently used pieces and mementos.'"
Build Dedicated Drawers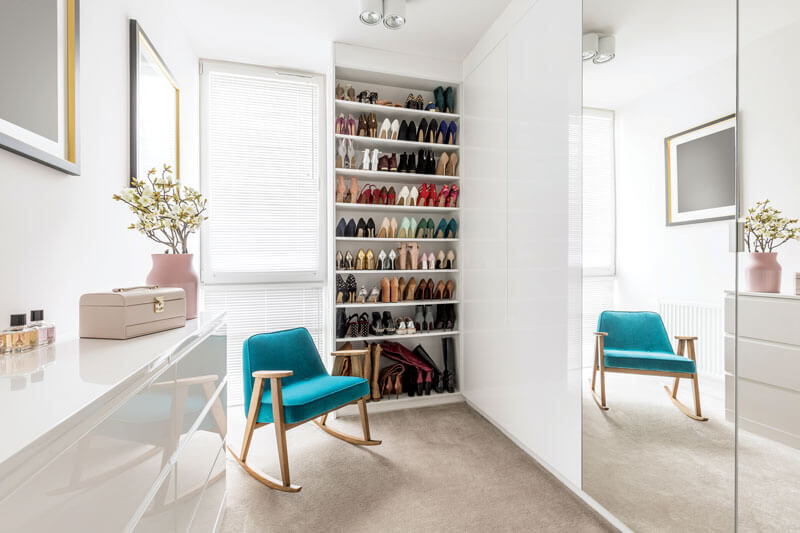 Deep drawers inside a stylish built-in unit or freestanding island win favor with the experts at Better Homes & Gardens. The Magazine offers this tip: "Deep drawers are ideal for bulky pajamas, sportswear, and items that don't always get neatly folded. They also leave room in [a] walk-in closet for more attractive items to be on display."
When Martha Stewart converted her spare room into a stunning closet, she commissioned "a two-sided bureau topped with marble" that referenced a similar marble on her kitchen's famous pastry-counter because she loved the elegance of it, and it helped tie the new construction to the rest of her home's style. As she revealed in Martha Stewart Living: The marble was "carved by a local stonecutter, and offers ample space for an antique jewelry box and mirror and a clothes-folding station." Each drawer in her closet offers peak organization, with spaces dedicated (and built) to house specific items, from delicates to cashmere wraps, from socks to sequined pants.
Design Protective Storage
If you have beautiful sweaters, you want to protect them from moths and UV rays throughout the year, and you want them to be easily accessible when you need them. Take a closet organization tip from Martha Stewart's renovation: "Plush pullovers are folded and arranged in a tall cabinet customized with restoration-glass panels that match the windows in the rest of the house," and sweaters are protected with cedar balls that are arranged within the stacks in the cabinet. For hanging items that might be subject to moths, InStyle advises using "[lavender] sachets tied to hangers [because they] are the best way to keep closets moth-free and the scent is nice for clothes (and for calming for us)."
Do you have exquisite and sentimental jewelry items that are prone to being tangled, scratched, or tarnished in a jewelry box? When creating your built-ins or designing the drawers for your closet island, make shallow drawers and fill them with velvet-lined trays to support your collection perfectly. Is it a splurge? Yes, but it is also a sophisticated closet organization tip that can help you preserve your priceless items.
Display Purses and Shoes
One of the closet organization tips that all experts can agree on is that you should display your handbags and shoes like the works of art they are. Purses can be arranged on shelves or in custom-designed cubbies with clear covers that still offer easy access while also protecting against dust. Keep the ones you often use at eye level while displaying occasional bags overhead. InStyle warns: "[Try] not to place bags within bags – it makes them too easy to forget."
Building a personalized shoe display within your walk-in closet or new dressing space offers sublime organization potential. Better Homes & Gardens loves the idea of crafting "[slanted] shelves [that] hold heels and sandals in place while flip-flops are tossed together in a braided basket." If you are reconfiguring existing shelving, move some shelves up to allow your boots to stand, and insert boot supports to keep them upright and the material from creasing or cracking. However, before you put a single Louboutin onto your new shelves, Better Homes & Gardens offers this pro-level closet organization tip: "Group by type! Storing similar items together is more important than grouping by color, particularly when you need to get ready quickly."
Create a Boutique Feel
Because our focus is typically on the practicalities of creating a closet organization system, we often forget about the atmosphere we are creating. You want your walk-in closet or dressing room to be a place that is welcoming and inspiring. One of Southern Living's favorite closet decorating tips advises that "a little pattern or texture (like a sheepskin rug) will instantly transform your storage space into a zone that you respect just as much as any other room in the house."
If you have the square footage, add a plush settee for relaxation. Place a vanity in the space so that you can also apply make-up and style your hair. Paint the walls a soothing or inspiring shade of blue, green, or purple. Consider adding patterned wallpaper to back your shelves or cubbies. For a truly elevated space, take note of one of Better Homes & Gardens' favorite walk-in closets: "As pretty as a silk-lined jewelry box, this walk-in closet sports tufted fabric walls that soften the room's functional floor-to-ceiling shelves."
Stools, step ladders, and sliding ladders can be handy if your walk-in closet has high ceilings. They allow you to access seasonal or rarely used items stored on the highest shelves without a lot of fuss. Without the step stool or ladder, the highest shelves risk becoming a space that is either underused or a place where things are hidden and never seen again.
Invest in Mood Lighting
From adding a small chandelier (one of Southern Living's favorite decorative touches) to the "dimmable remote-controlled LEDs in all the cabinets" added to Martha Stewart's closet conversion, you want to be mindful of your lighting options. No matter how much you invest in following the experts' closet organization tips, your space may still feel unappealing if you can't see well enough to navigate inside it or it is so bright that it feels harsh and unwelcoming.
If you have windows in your new closet, you need to consider how UV rays might impact the color of exposed clothing fabric. Martha Stewart Living reports that Stewart addressed both the need for protection and creating a mood in elegant ways; "Martha had solar shades installed (they're sheer but block color-fading UV rays), along with antique Dutch hammered-brass sconces to cast a warm glow." It's now a closet that truly marries exquisite style and function.
Visit Distinctive Collection by Better Homes and Gardens® Real Estate when you begin your journey to buy or sell your unique home.