As you put your list of Oscar party ideas together, don't forget to include an assortment of decadent desserts. Each sumptuous bite should make you feel as glamorous as the proceedings you are watching. From a bittersweet chocolate mousse to Champagne-glazed strawberries, here are Oscar party dessert ideas that may just win you an honorary Academy Award.
Gold-Dusted Truffles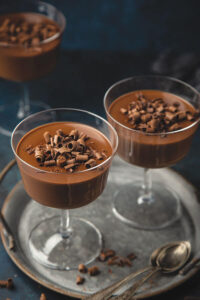 InStyle knows a thing or two about hosting an A-list Oscar party. The gold-dusted truffle is the one dessert bite that always makes it onto their gilded serving trays. As the Magazine raves, it's "an elegant treat for a sophisticated get-together." Gold-dusted truffles are available through your favorite fine chocolatiers, but be sure to buy early because these treats will sell out before the big night. The good news is that you can also make these delicious desserts at home using heavy cream, chopped bittersweet chocolate, vanilla, tempered semisweet chocolate, and a final touch of gold luster dust.
Toffee Temptation Cake
The name "Toffee Temptation Cake" really says it all. This Oscar party dessert idea comes from Martha Stewart Living. The Magazine adores this option for elegant celebrations because "this toffee cake layered with melt-in-your-mouth homemade Bourbon Brown-Sugar Buttercream is pure temptation." The delightfully spiked buttercream can be made in advance for use the same day or stored in a secure container in the refrigerator for up to a week before your big event. However, while the bourbon buttercream can be made days ahead of time, this tantalizing cake looks and tastes like perfection when it is served still slightly warm from the oven.
Bittersweet Chocolate Mousse
Food & Wine agrees that an Oscar party is not complete unless you offer indulgent desserts that also look spectacular. Among the Magazine's favorite Oscar party ideas is a bittersweet chocolate mousse served in sophisticated parfait glasses with "giant curls of bittersweet chocolate" for garnish. If the dessert feels both new and nostalgic, there is a good reason. Food & Wine explains: "Ad Hoc's chef de cuisine Dave Cruz created this rich chocolate mousse as a refined homage to the pudding he loved as a child." And while this dessert looks like you took hours preparing it, from prep to ready-to-serve takes only 30 minutes.
Golden Lemon Orange Bars
Rachael Ray In Season looks forward to rolling out the red carpet every year with Oscar dessert ideas "inspired by the glitzy Governors Ball menu." Among the editor's favorite viewing party desserts is the Golden Lemon Orange Bar. The added twist of a grated orange peel and orange juice takes this citrus confection to a new level of refinement. According to the Magazine, it gives the dessert its signature golden color when blended with perfectly tart lemons. Dust the top with powdered sugar just before serving, and get ready for the compliments.
Buttered Rum Meltaways
Are you looking for the perfect aromatic cookie to tempt your guests? The food editors at Martha Stewart Living love serving buttered rum meltaways on sophisticated trays or wrapping them up and slipping them into Oscar party gift bags. The Magazine applauds these "melt-in-your-mouth cookies filled with subtle undertones of dark rum, vanilla, and spices" that are "safe for all taste buds," as the "alcohol bakes off in the oven." What does remain are golden cookies topped with confectioners' sugar that guests will eagerly devour.
Mini Strawberry Tarts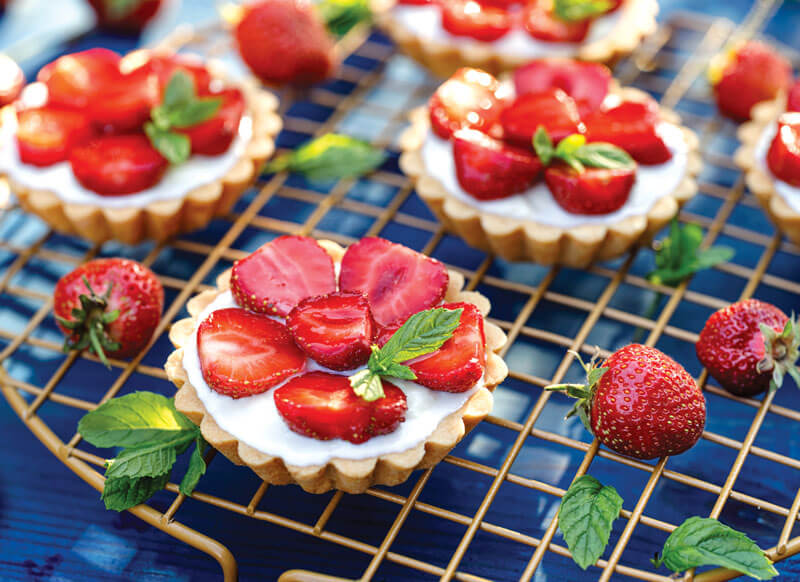 Mini strawberry tarts have caught the eye of the food editors at Southern Living. Described as "elegant and accessible," these Oscar party treats are full of flavor and the perfect idea for hosts looking for something light, satisfying, and beautiful. In fact, you might love this blend of strawberries, "lemon juice, cream cheese, and whipped cream" so much that you'll want it as a delectable option for all of your upscale parties.
Cream Puffs with Chocolate Sauce
"Impress Oscar party guests with a tower of fluffy, chocolate-covered cream puffs," raves Food & Wine. The Magazine adores this Oscar party idea because cream puffs are wonderfully indulgent and are nearly impossible to resist. You can easily pop over to your favorite French bakery to gather their freshly made cream puffs and finish them at home by "[drizzling] chocolate sauce over the puffs" before stacking them on a gold or silver serving tray with additional chocolate sauce on the side, a favorite technique of chef Elizabeth Katz, which she revealed to Food & Wine. If you want to try your hand at baking these thrillingly sumptuous bites, go that extra mile, like Katz has done, by "[draping them] in caramel and [wrapping them] in spun sugar" just before your guests arrive.
Decadent Chocolate-Espresso Cheesecake
Fit for a Hollywood royalty, the Decadent Chocolate-Espresso Cheesecake is celebrated by Southern Living and its readers. This Oscar party idea offers a little bit of everything; "dessert and coffee all in one slice, this over-the-top cheesecake is a surefire crowd-pleaser," heralds the Magazine. Naturally, it is the hit of instant espresso that elevates the chocolate cheesecake base. However, it is the topping made from heavy cream, coffee liqueur, powdered sugar, and chocolate shavings and shards that make it a star of any party.
Moist Chocolate-Cherry Stout Cake
Do you have guests that are stout connoisseurs? Only the finest should be served at your next Oscar party. Martha Stewart Living agrees with this idea wholeheartedly and suggests that hosts "consider this super-dense, super-delicious chocolate cake featuring Guinness and dried cherries." While Guinness is definitely the star, the molasses, dried cherries, Dutch-press cocoa powder, dark-brown sugar, and surprise hit of sour cream make this recipe shine even before the bittersweet chocolate glaze is added. Every bite is an experience in indulgence – precisely what you want at a soiree on Oscar night.
Champagne-Glazed Strawberries
While all desserts can be enhanced by pairing them with an excellent bottle of Champagne, no elegant event should be without Food & Wine's Champagne-Glazed Strawberries as a dessert option. One of the Magazine's most popular Oscar party ideas, this recipe relies on Zabaglione to make it unforgettable. What is it? The Magazine explains: "Zabaglione—a boozy Italian custard sauce—is made by whisking together egg yolks, sugar, and a splash of [Champagne]. This recipe is based on the traditional master recipe, which uses half an eggshell of sugar and half an eggshell of [Champagne] for each yolk." To serve, "arrange a single layer of macerated strawberries in the bottom of each of [the] crème brûlée dishes, and top with enough zabaglione to cover… and [broil] until zabaglione is bubbly and browned." Serve it hot, and your guests are sure to talk about your dazzling Oscar event for the rest of the year.
Visit Distinctive Collection by Better Homes and Gardens® Real Estate when you begin your journey to buy or sell your unique home.