Gourmet at-home meal kits can be a busy person's best friend. Fresh, delicious, and swift, meal kit delivery services have upped their game. Today, these services brilliantly answer your craving for home-cooked meals that meet your family's dietary preferences and their desires for something genuinely delectable. Whether you are vegan, vegetarian, Paleo, Keto, or gluten-free, there is a gourmet at-home meal kit that will make you smile.
Martha & Marley Spoon Meals
Reviewing chefs agree that the gourmet at-home meal kits from Martha & Marley Spoon are among the best available right now. This is no surprise; Martha Stewart's recipes have gotten attention for decades. Food writer and recipe developer Rick Martinez taste-tested a classic grass-fed beef burger recipe and could only rave about the taste to Martha Stewart Living in a review of several different services. In addition to the main entrée, he delighted in the unusual sides, including "simply delicious roasted asparagus fries (dipped in egg and coated in panko)," as well as the inclusion of helpful cooking tips that elevated every bite.  But, perhaps most impressive to Martinez, the recipes were innovative, and diners were never faced with "pre-bagged sauces" that may not meet their tastes or dietary needs.
We love how responsive the brand has been when it comes to evolving the Martha & Marley Spoon gourmet meal options. In a recent article in Martha Stewart Living, the company announced that its culinary options were expanding, providing up to 20 recipes per week. They also announced that, in response to feedback, the meal kit service would be "adding new and creative recipes featuring proteins like meat and fish, healthy options that are low carb and packed with whole grains, and dishes that cook in less than 30 minutes." Among the newest menu options, Martha & Marley Spoon provides new vegetarian and gluten-free dishes, including a gourmet "Crispy-Skinned Curry Salmon with Lentils, Carrots & Spinach" that is "packed with protein, omega-3 fatty acids, and vitamin D," according to the Magazine.
Sunbasket
Filled with menus developed by chef Justine Kelly (formerly of Slanted Door and Iron Chef), Sunbasket focuses on nutritious gourmet meals and sustainability. Simply Recipes voted it among the best at-home meal kits for vegan and healthy meal services. Why? The Magazine applauds: "Sunbasket balances organic ingredients with flavorful recipes in meal plans that work with almost any lifestyle." They love that the gourmet meal kit offers "fresh, organic produce and responsibly sourced meat and seafood, and 10 custom meal plans, including vegan, Paleo, Mediterranean, and diabetic-friendly options."
Dishes are innovative and globally inspired, with up to 25 new recipes available each week. Gourmet meals like "Yucatecan salmon with tomatillo verde sauce and zucchini, braised beef panang curry with jasmine rice and sweet peas, and Chorizo flatbreads with sunchokes and sunny-side-up eggs—all prepared in 45 minutes or less," are among Simple Recipes' favorites.
Purple Carrot Vegan Meal Kits
Food & Wine named Purple Carrot the best at-home meal kit for vegans on the market today. The Magazine explains: "Just like every other dish, vegan meals should be full of flavor and texture, which is why users love deliveries from Purple Carrot." Their plans include "quick and easy" options that allow you to finish their dishes in under 30 minutes. These are perfect for those who want delicious, healthy meals but don't have a lot of time or are relatively new to home cooking. Recipes focus on seasonal ingredients, and the kits offer tips on how to up your culinary game, should you have the time and the inclination.
While the "quick and easy" plan has several options for elevating the meals, the Chef's Choice plan is their much-lauded gourmet option. Whether your taste runs toward their "Scallion Mushroom Dumplings with Sesame Kale Salad and Kimchi Mayo" or "Crispy Harissa Tofu
with Jeweled Israeli Couscous and Lemon-Mint Cucumbers," you'll savor every mouthful.
Sakara Life At-Home Meal Kits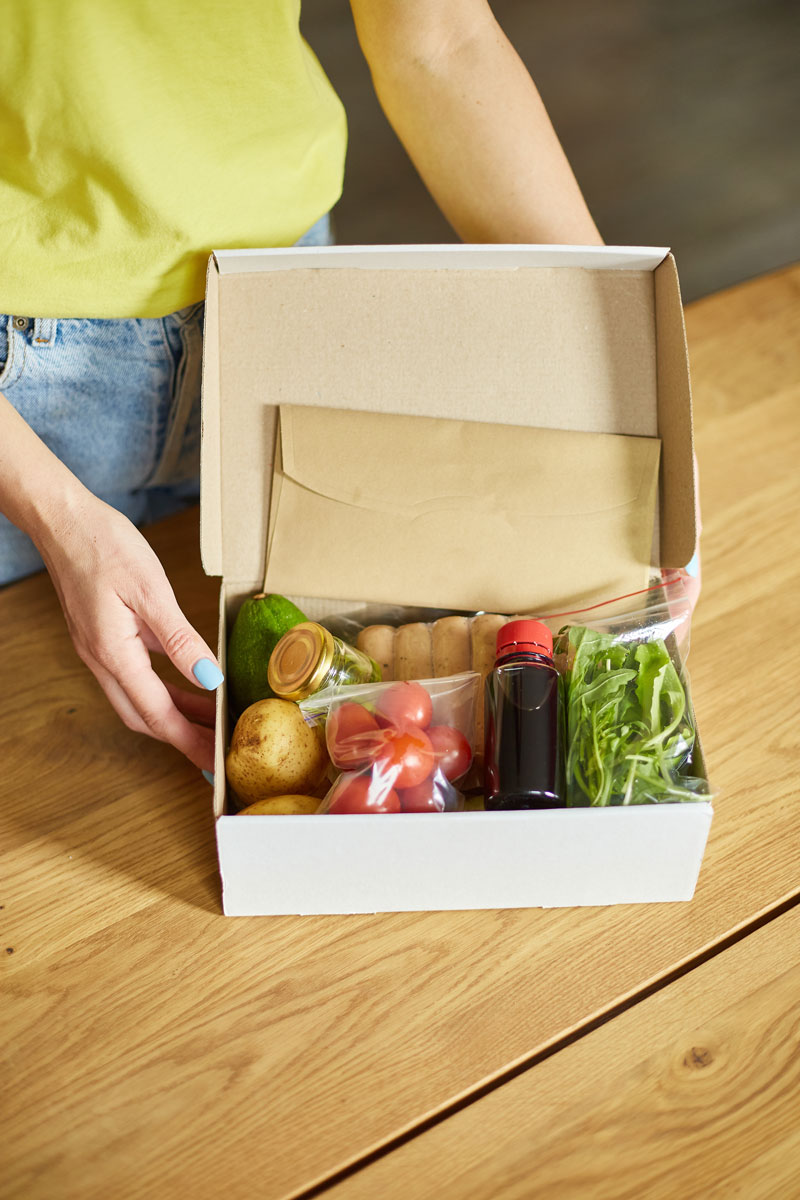 If you are searching for a ready-to-eat, plant-based meal kit delivery service, Food & Wine also raves about Sakara Life – there's no prepping, planning, or cooking involved. Slightly more expensive than many of the other meal kits, Food & Wine enjoys not only the sumptuous options, like "black garlic BBQ burger with pickles, superseed avocado salad, and roasted potato wedges," but their attention to wellness overall. As the Magazine explains, Sakara Life offers "six programs targeting a variety of wellness needs, like improving digestion and boosting energy." It's almost like having a nutritionist and a personal chef arrive at your door.
Hello Fresh At-Home Meals
Editors at Southern Living tasked themselves with finding restaurant-worthy at-home meal kits that their readers would love. Among their favorites is the popular Hello Fresh service. Southern Living reveals diners can "whip up chef-curated meals that will delight your Southern taste buds." Although the Magazine does offer this tongue-in-cheek warning: "It's going to be tough to decide between Low Country Shrimp & Grits, BBQ Cheddar Pork Burgers, and Cheesy BBQ Pulled Chicken Bowls for dinner."
Hello Fresh also made Food & Wine's list of the best gourmet at-home meal kits. The Magazine notes: "As America's most popular meal kit, HelloFresh is distinguished by its chef-designed recipes and easy-to-follow instructions. It offers four no-fuss plans with 20 different recipes every week—meat and veggies, vegetarian, low-calorie, and family-friendly—and allows you to customize your order by the number of meals and servings you want each week." The service also allows you to change meals and pause your subscription easily. Of course, with options like "jammy pork tenderloin with shallot-thyme pan stuffing and roasted green beans" and "shrimp and zucchini ribbons with basil oil over jasmine rice," you won't want to miss a dish.
Cook Unity Small Batch Meals
Cook Unity is already making a splash in the gourmet at-home meal kit industry. The founders loved the idea of supporting local culinary scenes, so they formed partnerships with Michelin-starred chefs and other food innovators in your city to bring extraordinary gourmet meals to your door. The kits use fresh, sustainably-sourced ingredients, and the service is constantly adding new recipes, so you'll never get bored. The chef collective also considers dietary preferences as they are developing their offerings. Whether you are following the Whole30 diet, need low-sodium options, or want dairy-free dishes, you have meals from award-winning kitchens to support you.
If you are into your local food scene, you'll also love knowing which chef was behind the recipe and what the inspiration was. Whether you want to try the "Brisket Kefta with Roasted Leeks, Purple Sweet Potato" by chef Timothy Brice or the "Lentil Bolognese with Brown Rice Pasta" by Anne Thornton, you have the opportunity to learn more about the dish's development and the macronutrient ratios behind your choices.
Blue Apron Service
Named "Best for Wine-Lovers," Blue Apron continues to impress Food & Wine. The Magazine reports: "The original meal kit delivery service, Blue Apron is a fan favorite for its consistent quality and clearly written chef-developed recipes. Everything comes pre-portioned for speedy prep, and all recipes are six steps and under." This makes it ideal for anyone who enjoys home-cooked gourmet dishes (like their "seared scallops and mushroom risotto with chocolate-pistachio truffles"), but doesn't want something too complicated after a long day of work.
Of course, one of the ways Blue Apron distinguishes itself is with its wine pairings. The Magazine reveals: "Blue Apron even offers its own wine program… It works directly with vineyards to select reds and whites that complement Blue Apron's recipes, sending three 500-milliliter bottles with each delivery—the perfect amount for two people to share over a freshly prepared meal."
Gobble Meal Kits
Food & Wine and Parents magazines agree that Gobble is the way to go for quick, elevated meals. Food & Wine applauds: "This meal delivery service ships ingredients that are already peeled, chopped, measured, and marinated, so you can cook a fresh homemade meal in 15 minutes or less." They love the chef-designed gourmet menus, and that "quick" doesn't mean skimping on taste – as their "Burmese shredded chicken with coconut rice and Burmese-style salad" and "Louisiana-style shrimp with white cheddar grits" confirm.
Parents magazine loves the idea of being able to choose "Lean and Clean" plans that focus on "dishes with lean proteins and healthy fats," as well as Classic meals that are "a little less calorie focused and a little more gourmet." What is one of their favorite gourmet entrees? "Casareccia Pasta With Herb Truffle Buttered Mushrooms and Butternut Squash" is just one dish that had editors raving. Yum!
Visit Distinctive Collection by Better Homes and Gardens® Real Estate when you begin your journey to buy or sell your unique home.